09/13/2022
CASA Awards 8 ASCs with the CASA Award for ASC Excellence
CASA Awards 8 ASCs with the CASA Award for ASC Excellence
Sutter Roseville Endoscopy Center Wins ASC of the Year

(Diane Pearce, Shogofa Zamon, Robin Menefee, Marie Mueller, Jeanne Linda, Shea Lansberry, Sarah Sterling, Kate Pearlstrom)
On Thursday, September 8, 2022, CASA revealed the recipients for the 2022 CASA Award for ASC Excellence and the CASA ASC of the Year. The awards were established to acknowledge that California ASCs are drivers of excellent healthcare, providing opportunities and solutions for healthcare reform. In 2016, the CASA Board established the CASA Award for ASC Excellence as a mechanism to honor ASCs who strive to "rise to the top." The program is built around 5 pillar categories acknowledging a CASA member facility who exemplifies best practices in the surgery center industry, plus actively promotes and advocates for ASC excellence and inclusion in the healthcare delivery system.
All of the centers recognized demonstrated significant involvements in the award pillar areas of:
Membership – Facility supports the ASC industry through active engagement in professional organizations.
Advocacy – Facility drives ASC-related legislation at both the Federal and State level through education, action and financial contributions.
Quality Metrics – Facility drives transparency and clinical quality in the ASC through facility benchmarking and public reporting and superior performance of important metrics including outcomes, pricing, and patient satisfaction.
Education – Facility ensures clinical best practices, operational efficiency, and regulatory compliance through ongoing patient, staff and physician education.
Community Involvement – Facility is actively engaged in educating the public regarding the benefits of ASCs and demonstrating leadership in improving the general health of their community.
The recipients submitted applications with supporting documentation demonstrating their commitment and involvements across the pillar categories. The applications were reviewed by a select, unbiased committee, who chose 8 of the candidates to receive the award. From these outstanding ASCs, one was selected to receive the distinguished award of CASA ASC of the Year. The winners were announced at the CASA Conference, September 8, 2022, for their outstanding efforts and commitment during the pandemic.
CASA ASC of the Year – Sutter Roseville Endoscopy Center

(Dr. Ron Hsu - Medical Director, Marie Mueller - Administrator, Laura Stangrover-Business Office Manager, CASA President Brad Heaton)
Sutter Roseville Endoscopy Center was awarded not only the CASA Award for ASC Excellence, as they were also awarded the prestigious CASA ASC of the Year. The center was established in 2004 and performs over 10,000 procedures yearly. They have received the American Society of Gastrointestinal Endoscopy (ASGE) Endoscopy Unit Recognition Program Award multiple times and were acknowledged by Newsweek as one of the top ASC in California in 2021. They have a robust advocacy program conducting 3 legislative center tours, one of which included 5 Congressional representatives. They have a robust quality management, infection control and safety program incorporating education and certification from the Society of Gastroenterology Nurses and Associates (SGNA), Association of periOperative Registered Nurses (AORN) and Association for Professionals in Infection Control and Epidemiology (APIC). They are extremely involved in their community and created and delivered a community seminar on Colon Awareness attended by 400 people.
CASA Award for ASC Excellence Winners
Mission Surgery Center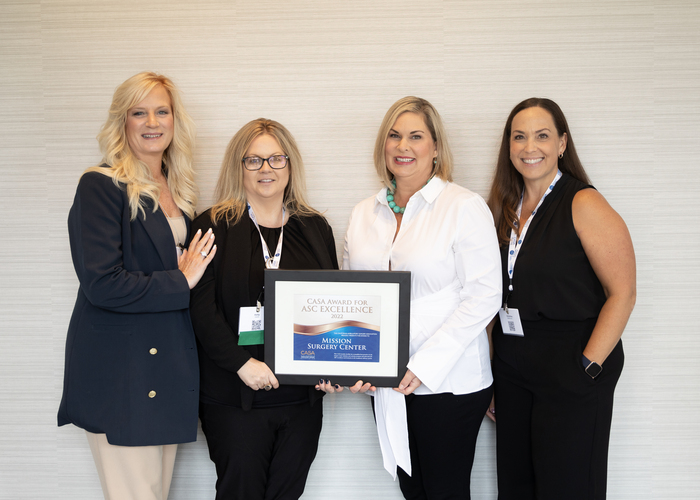 (Tersa Lech, Kelly Veals, Kate Pearlstrom, Christina Baldocchi)
San Leandro Surgery Center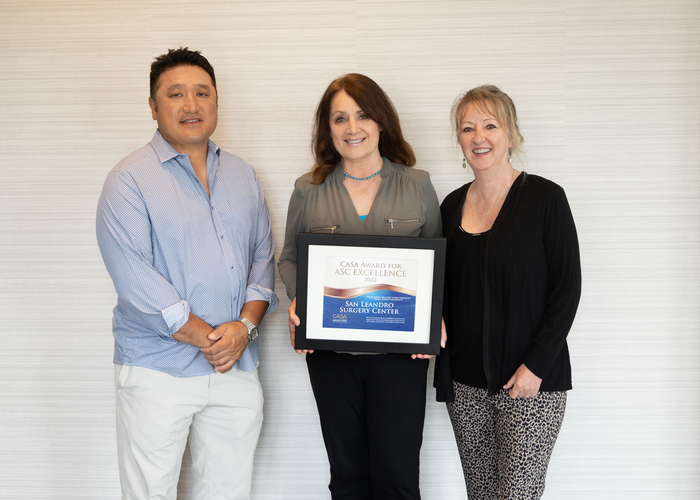 (Andrew Kim, Jeanne Linda, Melody States)
Sequoia Surgical Pavilion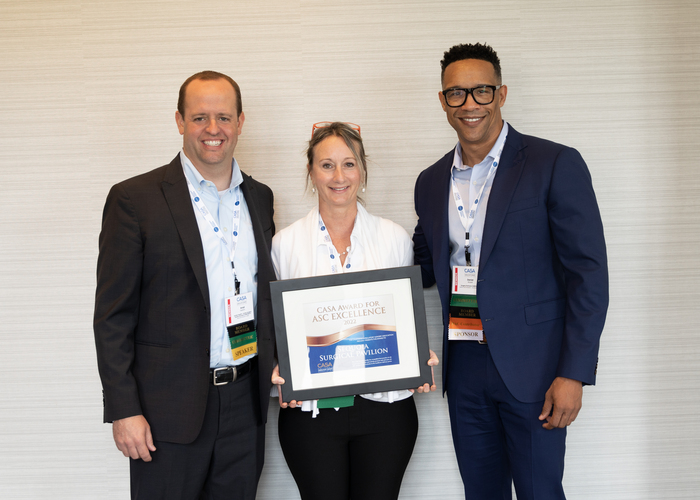 (CASA President Brad Heaton, Shea Lansberry, Daniel Brazell)
Surgery Center San Carlos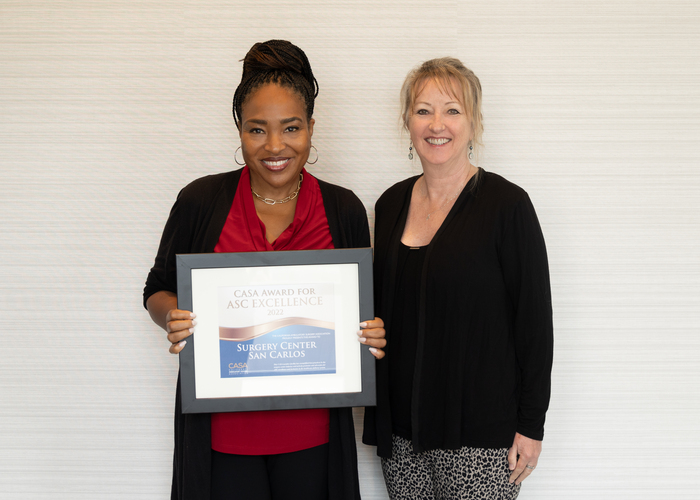 (Robin Menefee, Melody States)
Surgery Center Fremont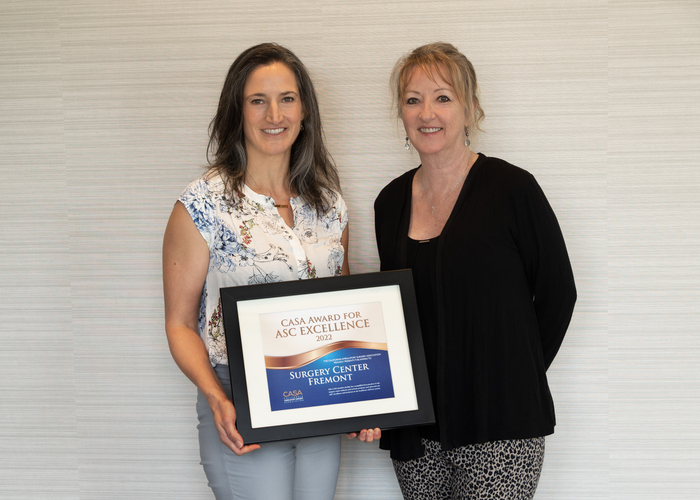 (Diane Pearce, Melody States)
Surgery Center San Jose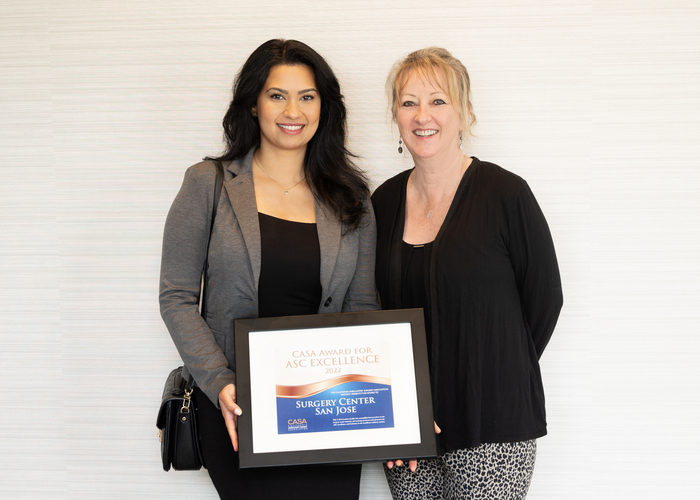 (Shogofa Zamon, Melody States)
Sutter Fairfield Surgery Center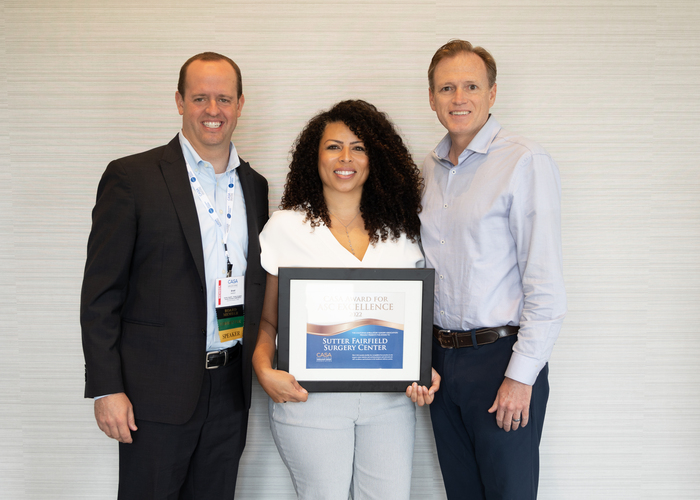 (CASA President Brad Heaton, Sarah Sterling, Rusty Marsh)
Congratulations to all of these well-deserving ASCs!