Complete Story

09/10/2017
Debbie Mack Acknowledged with Richard LeBlanc Award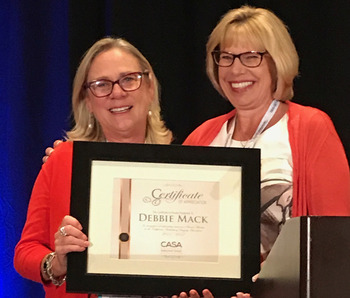 The Richard LeBlanc award, originally called the President's award, was established early in the history of CASA. This Presidents award was adopted to honor a CASA member who has given tirelessly to the organization, frequently going above the call to duty in volunteering for CASA. The award is not necessarily given to those who have served on the board and is not given each year, but at the nomination and choosing of the CASA President.
In 2003 the name of the President's award was changed to the Richard LeBlanc award. Richard exemplified every quality that the President's award embraces. He served not only in the position of CASA treasurer, but actively served on the conference committee each year. Richard truly embraced CASA and its members. Richard saw to it that no job was left undone
In the almost 30-year history of CASA, this award has been given out 10 times. At this year's 2017 CASA Conference, CASA President Peggy Wellman, acknowledged long serving CASA Board Member Debbie Mack with the well-deserved honor of the Richard LeBlanc award.
Debbie Mack was appointed to the Board in 2003 via the vacancy left by the sudden death of Richard LeBlanc. Through her dedication and leadership, she served CASA as its President from 2008-2010. In her term as President, Debbie led the CASA membership through the "Capen vs. Shewry transition and the expansion of the Center for Medicare and Medicaid Services (CMS) ASC Conditions for Coverage.
Debbie continued her leadership at CASA with her passion for education and has chaired numerous CASA conferences and is often featured as a speaker. In 2008, she developed the CASA Infection Prevention and Surveillance Seminar which continues to grow with record attendance each year.
The CASA Board and its members are indebted to the outstanding service of Debbie Mack to CASA and its members. Congratulations Debbie!!
---