Advocacy
Advocacy
Have you built relationships with your Representatives?
There are many issues that affect ambulatory surgery centers. It is important for ASCs to be represented with a strong voice.
Tools for Legislative Site Visits and ASC Governing Board
Helpful Federal Links:
Helpful State Links:
---
PAC Fund
PAC Contribution Rules: Corporate/Company can contribute $9,100 per calendar year. If individual owns 50% or more of the contributing company, the individual's personal contribution and the company's contribution cannot total more than $9,100. PAC contributions can only be used for campaign contributions. These funds cannot be used to pay for lobbying efforts (TDG Strategies). Contributions are not tax deductible.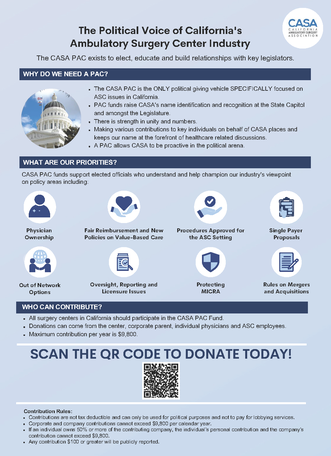 CASA Issue Backgrounder / Grassroots Advocacy
Host a Facility Tour
California Ambulatory Surgery Association (CASA) is the leading advocate for the ambulatory surgery center industry. CASA and its members advance communication and education to key political audiences including legislative and regulatory decision-makers.

This guidebook supports CASA's proactive grassroots program to educate Legislators about ambulatory surgery centers (ASCs) through on-site tours. The goal is to show the legislators firsthand the high-quality healthcare opportunities available at an ASC. It is not enough to just brief someone or simply conduct a facility tour; a Legislator needs information that will provide background and policy support for important decisions on healthcare issues.

CASA Tour Handbook 2021
For more information about your state legislators, click on the Advocacy tab.