Complete Story

11/06/2017
CASA Members in Action
Emergency Preparedness – ASCs Need to have a plan in place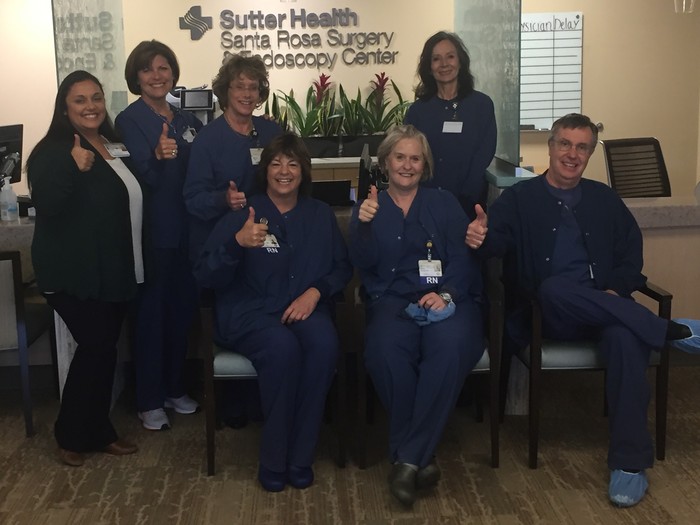 (From Left to Right: Crystal Jones, Shawndra Simpson, Marion Auld, Pam Reed, Blair Halliday MD, Wilma Strong, Sue Longland )
On October 9, 2017, the staff at Sutter Health – Santa Rosa Surgery and Endoscopy Center were awoken in the early morning hours to evacuate quickly, as fast-moving walls of flames driven by powerful winds had torn through and set ablaze two surrounding neighborhoods in Santa Rosa. Over the next two weeks, Santa Rosa would experience one of the worst wildfires in Northern California, and the staff at Sutter Santa Rosa Surgery and Endoscopy Center would face tragedy, despair, and displacement. Through all the challenges, the staff at the center never wavered in the Standards of Excellence of: Teamwork, Compassion & Caring, Community, Innovation, and Excellence & Quality. On October 13, 2017, Administrator Marion Auld (who lost her home) and Regional Director of Operations Shawndra Simpson returned to the center, and found the center still standing in the midst of all the devastation. The center became a beacon of hope, and the process of rehabilitation and restoration began. Over the next two weeks an intensive process started. Lead by Marion Auld, Shawndra Simpson and key staff members, along with the help of Sutter Santa Rosa Hospital and other internal and external agencies, the center was spotless and ready to open. On October 26, 2017, CDPH and Life Safety inspected the center and gave the all clear to re-open. On October 27, 2017, Sutter Santa Rosa Surgery and Endoscopy opened their doors to the Santa Rosa community.
Our hearts go out to all those who lost so much. It brings to mind how important it is for an ASC to have an Emergency Preparedness Plan. The deadline for ASCs, certified by the Centers for Medicare & Medicaid Services (CMS), to implement revised emergency preparedness standards is approaching November 15, 2017. The rule creates mandatory elements and planning procedures, that facilities must institute to account for facility occupant safety, in the event of natural and man-made emergencies.
This summer, CMS released an Advanced Copy of the Emergency Preparedness Interpretive Guidelines. Since the emergency preparedness requirements apply for all Medicare-certified providers and suppliers, CMS compiled the guidelines for all facilities under one appendix, Appendix Z. CMS also released other tools on its emergency preparedness page that may help facilities as they implement this new rule. A spreadsheet for surveyors, including emergency preparedness tags that is specific to ASCs, can be found here.
Highlighted below are some specific areas that ASCs need to review and assure they are in compliance.
Emergency Plan: 42 CFR § 416.54 (a)
ASCs must develop an emergency plan based on risk assessment using an all-hazards approach and develop and update their emergency plan annually.
ASCs must include a process for maintaining cooperation and collaboration with local, tribal, regional, state, and federal emergency preparedness officials' efforts. ASCs also must document their efforts to contact pertinent emergency preparedness officials and, when applicable, their participation in any collaborative and cooperative planning efforts.
CMS acknowledged that providers cannot control the actions of other entities within their community and they are not expecting providers to hold others accountable for their participation or lack of participation in community emergency preparedness efforts.
Using their risk assessment, ASCs should develop policies and procedures that account for patient and staff needs in the case of identified emergency scenarios. Evacuation plans and procedures for all facility occupants should also be defined, including arrangements to transfer patients to a hospital if a patient requires additional care during an emergency.
Communication Plan: 42 CFR § 416.54 (c)
ASCs are required to develop a written communication plan that complies with federal and state law. The plan should describe how the facility will coordinate continued patient care within the facility, with outside healthcare providers and with state/local public health departments in the event of an emergency. Facilities should also consider how they will interact with emergency management agencies in protecting the health and safety of their patients. Location-specific considerations must also be incorporated, such as limited access to internet or phone capabilities for those facilities in rural areas.
ASCs are required to track their patients and staff before and during an emergency. In addition, if patients or staff are transferred for continued or additional care, the ASC must document the specific name and location of the receiving facility or other location for those patients and on-duty staff who are relocated during an emergency. CMS notes that if the ASC is able to close or cancel appointments, there would be no need to track patients or staff.
ASCs must also disseminate information about a patient's status, should an emergency occur while an ASC is open and operating.
Training and Testing: 42 CFR § 416.54 (d)
The rule requires that Medicare and Medicaid participating providers develop and maintain training and testing programs, including initial and annual trainings, and conduct drills and exercises or participate in an actual incident that tests the plan.
ASCs are required to take part in two annual emergency preparedness tests. The first exercise should be a community-based drill, if available. If a community drill is not available, CMS will require an ASC to conduct an individual facility-based drill. For the second exercise, an ASC would be required to conduct either a facility-based drill or a tabletop exercise.
CASA has been working with the California Regional Directors on the appropriate contacts for ASCs to reach out to their specific counties. They have advised that the following link should contain the appropriate contacts for ASCs to coordinate with their county officials. CA EMS Contacts
---