Complete Story

12/20/2017
Surgery Center of Long Beach is First in the Nation to Receive AAAHC'S New Orthopaedic Certification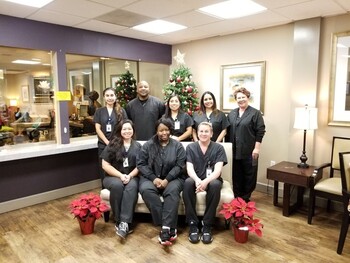 This past fall, CASA Member, the Surgery Center of Long Beach (SCLB), received the first ever Orthopaedic Certification by the Accreditation Association for Ambulatory Health Care (AAAHC) for its high-quality orthopedic services. This is a significant honor for this distinguished center who previously received the CASA Award for ASC Excellence, in 2016.
"As a center that is committed to providing the highest quality of care and a positive patient experience, we are proud to be the first ASC to receive AAAHC's Orthopaedic Certification," said LaVerne Haller, Center Administrator for Surgery Center of Long Beach. "The certification demonstrates our patient-centered focus and dedication to adhering to strict quality measures and industry best practices."
AAAHC develops standards that advance patient safety and quality care and accredits a wide range of outpatient settings. The certification program expands upon the AAAHC ASC Accreditation and demonstrates a center's excellence in the orthopedic specialty. To achieve certification, ASCs must be accredited and meet a number of criteria, including the credentialing of providers, rigorous patient screenings and the practice of evidence-based medicine.
The new program has two levels of certification – specialty and advanced specialty. Surgery Center of Long Beach achieved the advanced specialty certification, which establishes the center's ability to perform complex procedures safely and effectively, as well as care for patients that are more complex. The center's skilled team specializes in total knee, hip and shoulder replacements and spinal procedures.
"After seeing a need for more accessible advanced orthopedic care, we started providing total joint replacements in 2013," said Peter Kurzweil, M.D., who leads Surgery Center of Long Beach's orthopedic program. "Our team has done an incredible job building a comprehensive orthopedic program and making sure every patient has the best possible care experience. The certification recognizes our advanced capabilities and assures referring physicians and providers that we are a trusted partner in and a preferred provider of quality and cost-effective outpatient services."
The team credits its strong leadership, effective communication and patient-centered approach to its success. The team screens patients carefully to make sure they are strong candidates for surgery and closely monitors patients' rehabilitation in the days and weeks following procedures. The team also administers patient surveys in its ongoing effort to improve clinical performance and provides a positive patient experience. SCLB, in partnership with AMSURG, is dedicated to providing patients with a safe, comfortable and affordable setting for procedures outside of the hospital.

On March 7, 2018, Nossaman LLP and California Ambulatory Surgery Association (CASA) will host the 4th Annual West Coast Ambulatory Surgery Center Seminar in Los Angeles. This annual event brings together industry experts to address the challenges faced by, and opportunities available to, today's ASCs and will provide information and strategies that are critical to your ASC's profitability and success.
The ASC industry has changed the landscape of healthcare due to its high-quality and cost-effective alternative to inpatient care. With all of these changes, it is important to stay up to date with the latest trends and legal regulations to not only survive but thrive in today's competitive environment.
Seminar topics will include:
Current state of the industry - legislative and regulatory updates
Mergers and acquisitions/joint ventures
Valuation/improving profits
Managed care contracting
HR/employment
Intellectual property/data breach/cybersecurity
Peer review/credentialing
Emerging issues and a look ahead
Registration is now open! Register by February 7, 2018 to take advantage of our early-bird pricing!
---