Complete Story

04/25/2019
CASA Holds Annual Summit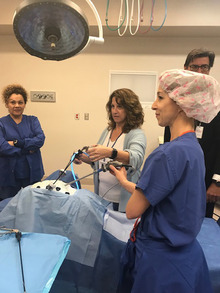 Andrea Tyler, Network Manager, Northern California Aetna participates in a hands-on demonstration during the ASC tour at Specialty Surgery Center Westlake Village
The California Ambulatory Surgery Association (CASA) held their annual Summit, April 4 and 5, 2019. This unique meeting brings together ASC executives and representatives from the major health plans to discuss industry trends, concerns, and strategies to work together for healthcare delivery solutions.
Some of the key topics and discussion highlights included:
A look ahead at the growth trends for outpatient procedures: Much attention was devoted to discussing the clinical direction of the ASC market. Amanda Olderog, Senior Consulting Director for Sg2 opened the meeting with an in-depth discussion on procedure sites of the future. She highlighted that all procedure growth will occur in lower-cost, lower-acuity settings. The timing and magnitude of this shift to various sites will be determined by local dynamics.
Exploring opioid alternatives: As more complex procedures are migrating to the ASC market, an important discussion focused on strategies to combat the opioid crisis in outpatient surgery. Janet Poppe, Vice President, Payer, and Employer Relations of Pacira Pharmaceuticals relayed how 1 in 15 surgical patients who are prescribed an opioid go on to long-term use or abuse. Given this challenge, providers are relying more heavily on a multimodal analgesia approach that can provide post-surgical pain control while reducing the use of opioids. Exparel, a proven non-opioid, postsurgical pain management alternative, is one such product and has recently been approved for reimbursement by the Center for Medicare and Medicaid Services (CMS). Poppe highlighted how some health plans are integrating covering the cost of Exparel into their benefit design and encouraged all the plans to consider a similar methodology.
New opportunities for spine procedures in ASCS: Brian Perri, MD provided a thorough presentation on advanced spine procedures in the ASC. He covered the evolution and potential for additional procedures to be safely performed on an outpatient basis while providing excellent patient outcomes and savings to both the consumer and the insurance companies.
The role of robotics in general surgery: James Parcells, MD, a general surgeon from Baylor Mansfield, outlined his experience and progression of incorporating the DaVinci robot into his surgical practice. He highlighted the patient experience of less postoperative pain and greater satisfaction. Successful incorporation of this technology requires not only physician support, but ASC administrator and health plan buy-in.
A major Summit highlight that built upon the clinical presentations was a tour of the Specialty Surgical Center of Westlake Village (SSCWV). Lana Davis, administrator of SSCWV, organized an outstanding event which allowed many health plan representatives to see a working operating room in an ASC for the first time. The center opened four surgical suites, each equipped for a different specialty including spine, shoulder, total hip, and general laparoscopic surgery. The tour attendees handled the tools and equipment and learned more about the different intricacies involved with surgery. In addition, attendees were provided a tour of the Stay Well Recovery Suite, which allows patients to stay overnight with monitored care while not incurring the costs of a hospital stay.
The second day of the Summit opened with a legislative update from CASA Legislative Advocate, Bryce Docherty and Ambulatory Surgery Center Association CEO, Bill Prentice. They reviewed the current political environment and the discussions around health care and the ASC community.
The following sessions focused on new concepts in the health plan market:
Kristin Miranda, Vice President, West Territory Leader, Aetna presented "Moving to Value: One Health Plan's View on Future State".
Michael Su, MD, California Medical Director, OSCAR, provided an overview of OSCAR Health in California.
Mark Reynolds, Chief Operating Officer, Anthem Blue Cross of California, discussed the recent trends in benefit design.
There was a panel addressing "OptumCare: Driving Value through Clinically Integrated Systems," which included: Ray Chicoine, President, Monarch HealthCare, Anna Gimble, Vice President, National Provider Relations, United HealthCare, Stephen Kinsley, Vice President, Payer Engagement and Strategy, Surgical Care Affiliates and Julie Roberts, Group President, Surgical Care Affiliates. The Closing session involved a discussion of quality metrics in the ASC market and the Leapfrog ASC Survey by Katie Burggraf, Director Healthcare Ratings, The Leap Frog Group and Emma Hoo, Director, Pacific Business Group on Health. Burggraf reviewed the Leapfrog Survey while Ms. Hoo discussed the importance of quality metrics for employers as they look to benefit design. CASA provided a summation of the association's benchmarking metrics for 2018 with a comparison to the national Ambulatory Surgery Center Quality Collaboration (ASCQC) data. CASA members can work with CASA to personalize their individual center's metrics compared to CASA's statewide statistics as well as the ASCQC.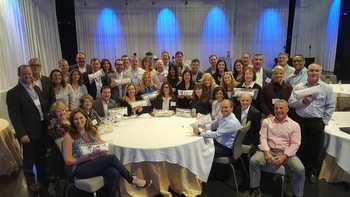 In addition to the education, the attendees were able to network with a teambuilding exercise that built 15 prosthetic hands to send to victims of land mines through the Odyssey Helping Hands program.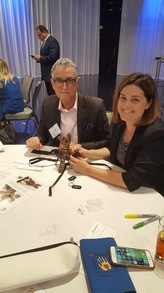 This annual meeting has become a critical component to CASA's mission of advancing relationships with critical parties for the success of ASCs in California. CASA President, Deborah Miller stated that "The CASA Board and leadership are very pleased with the outcome of the Summit. It's encouraging to see the collaborative dialogue between the providers and the plans discussing critical concerns and opportunities to drive down the costs of healthcare."
---