Complete Story

09/20/2021
CASA Awards 10 ASCs with the CASA Award for ASC Excellence
Santa Rosa Surgery and Endoscopy Center Wins ASC of the Year
CASA Awards 10 ASCs with the CASA Award for ASC Excellence
Santa Rosa Surgery and Endoscopy Center Wins ASC of the Year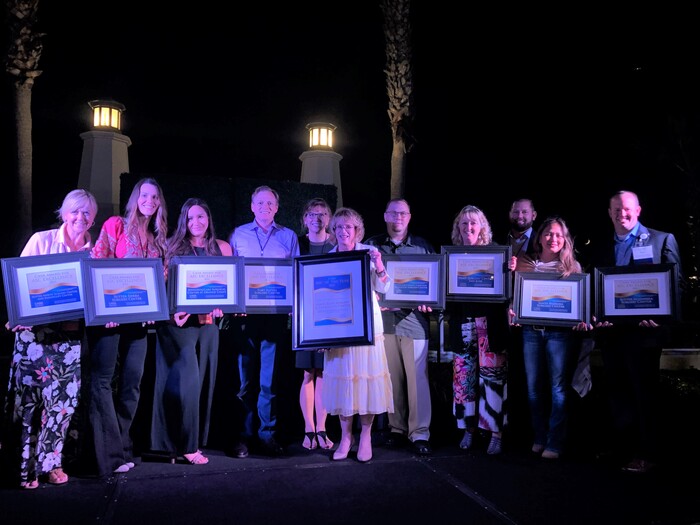 On Thursday, September 9, 2021, CASA revealed the recipients for the 2021 CASA Award for ASC Excellence and the CASA ASC of the Year. The awards were established to acknowledge that California ASCs are drivers of excellent healthcare, providing opportunities and solutions for healthcare reform. In 2016, the CASA Board established the CASA Award for ASC Excellence as a mechanism to honor ASCs who strive to "rise to the top." The program is built around 5 pillar categories acknowledging a CASA member facility who exemplifies best practices in the surgery center industry, plus actively promotes and advocates for ASC excellence and inclusion in the healthcare delivery system.
All of the centers recognized demonstrated significant involvements in the award pillar areas of:
Membership – Facility supports the ASC industry through active engagement in professional organizations.
Advocacy – Facility drives ASC-related legislation at both the Federal and State level through education, action and financial contributions.
Quality Metrics – Facility drives transparency and clinical quality in the ASC through facility benchmarking and public reporting and superior performance of important metrics including outcomes, pricing, and patient satisfaction.
Education – Facility ensures clinical best practices, operational efficiency, and regulatory compliance through ongoing patient, staff and physician education.
Community Involvement – Facility is actively engaged in educating the public regarding the benefits of ASCs and demonstrating leadership in improving the general health of their community.
The recipients submitted applications with supporting documentation demonstrating their commitment and involvements across the pillar categories. The applications were reviewed by a select, unbiased committee, who chose 10 of the candidates to receive the award. From these outstanding ASCs, one was selected to receive the distinguished award of CASA ASC of the Year. The winners were announced at the CASA Conference, September 9, 2021, during the evening event acknowledging the ASC community for their outstanding efforts and commitment during the pandemic.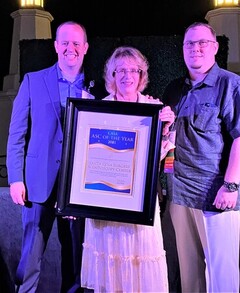 Brad Heaton, Executive Director, Valley Area Sutter Surgery Center Division, Marion Auld, Administrator Santa Rosa Surgery & Endoscopy Center, Chad Smith, Director of Clinical Services, Valley Region, Sutter Surgery Center Division
CASA ASC of the Year - Santa Rosa Surgery and Endoscopy Center
The Santa Rosa Surgery and Endoscopy Center was awarded not only the CASA Award for ASC Excellence, they were also awarded the prestigious CASA ASC of the Year. Santa Rosa Surgery and Endoscopy Center was founded in 1983. The center is incredibly active in their community and a member of their chamber of commerce. As they have been in the center of a wildfire disaster area, they are strongly committed to their county's Healthcare Coalition response, where they participate in planning for local disaster response and other emergencies. They were utilized in 2020, in response to the Glass, Walbridge, and Meyers fires. This coalition involvement was also instrumental during the pandemic and access to important PPE. The center and staff are committed to ASC advocacy and recently conducted a virtual tour with Congressman Mike Thompson. Santa Rosa Surgery and Endoscopy Center has also taken the CASA Opioid Sparing Pledge. California Assemblymember Jim Wood was very interested in the program and requested to meet with the staff to further discuss the pledge and its impact. They have a robust quality program in place and participate in several programs. In addition to involvement with emergency response in their community, they've been active with donating equipment and sending staff to work in Kenya. They were integrally involved with working with their community during the pandemic, and the center was also utilized as a vaccine clinic.
CASA Award for ASC Excellence Winners
Sutter Sierra Surgery Center
PAMF Surgery Center of San Jose
Santa Barbara Surgery Center
Santa Rosa Surgery and Endoscopy Center
Fort Sutter Surgery Center
Sutter Gould Medical Foundation / Stockton Surgery Center
Sutter Alhambra Surgery Center
Presidio Surgery Center
Sutter North Surgery and Endoscopy Center
MemorialCare Surgical Center at Orange Coast
Congratulations to all of these well-deserving ASCs.
CASA Infection Prevention and Surveillance Seminar
Mark the following dates for the CASA Infection Prevention and Surveillance Seminar-November 4th, 11th, and 18th. We will be holding the seminar virtually again to allow more or your staff to attend. Registration is open.
Sign Up for the CASA Online Community
CASA is excited to announce we are launching a new portal for a CASA Online Community. This should be a huge benefit to our members and allow them to interact and address questions about ASC operations, etc. An invitation has gone out to all members and should be in your inbox. If not, you can go to the following link and it should take you to the login page. We are so excited to offer this great tool for communication. If you would like to see additional groups or subject tags, please reach out to CASA Executive Director, Beth LaBouyer at info@casurgery.org.
---